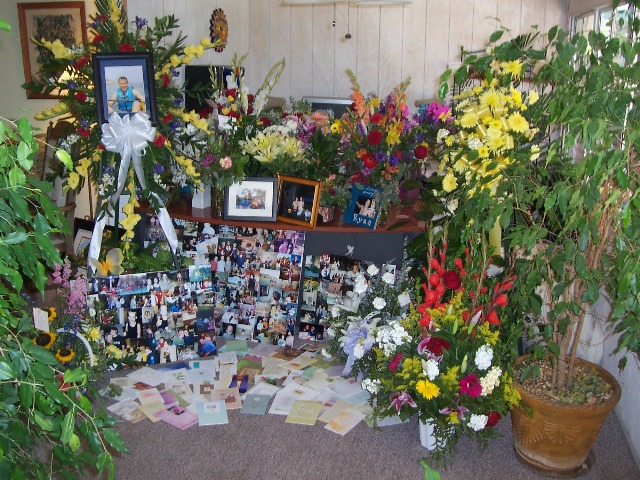 A Special Thank You -
My wife and I would like to thank the City of Glendora and all Glendorians for their true outpouring of Love and support. It has been a blessing that no parent would ever hope to ask for but Ryan's mother and I humbly and respectfully are so honored to accept. We have gained so much strength from you all and we feel your heartbreaking over the loss of our Ryan.
To our friends and family, no words can express our deepest appreciation for all you've done for us during this most difficult of realities. We ask God to grant each of you an extra portion of His Love. Please know that from the smallest to the largest act of kindness, each was/is an interregnal piece of our recovery.
Bible Verses and Eulogy -
To the Living - Psalm 23
The LORD is my shepherd; I shall not want.
He maketh me to lie down in green pastures: he leadeth me beside the still waters.
He restoreth my soul: he leadeth me in the paths of righteousness for his name's sake.
Yea, though I walk through the valley of the shadow of death, I will fear no evil: for thou art with me; thy rod and thy staff they comfort me.
Thou preparest a table before me in the presence of mine enemies: thou anointest my head with oil; my cup runneth over.
Surely goodness and mercy shall follow me all the days of my life: and I will dwell in the house of the LORD for ever.
2 Timothy 4:6-8
The Apostle Paul wrote the eulogy for all Christians when he penned this verse. You will notice the word "Departure" in the start of the verse. The word that Paul used here was a picture word that meant to finally board a ship that had taken his whole life to pack and prepare for that one special day to set sail and START his eternal life.
For I am now ready to be offered, and the time of my departure is at hand.
I have fought a good fight, I have finished my course, I have kept the faith:
Henceforth there is laid up for me a crown of righteousness, which the Lord, the righteous judge, shall give me at that day: and not to me only, but unto all them also that love his appearing.
Ryan not only knew he was packing his ship but he did it with Life and Glee and Happiness and Courage and above all with the "Blessed Assurance."
Ryan's last act was still denying his personal circumstance of a daily fight against the disease of Diabetes.
Ryan grabbed that Surfboard, he ran with a smile and excitement to the surf that would take him to his heavy laden ship, and he set sail on the journey home, then off to explore Eternity.
May God continue to be the wind in his sails and May God bless us all.

Amen.
---
Below are pictures taken at Ryan's Home Going Service.

There was somewhere between 400-500 people in attendance. We realized much too late that we didn't arrange for a photographer to document the service. We are so grateful that one of our good friends did take the pictures seen below. Our hopes are that some others took pictures that day and we would appreciate it so much if they would post them to Ryan's Photo Album.